You are here
Shortlist for the 2001 Sunburst Award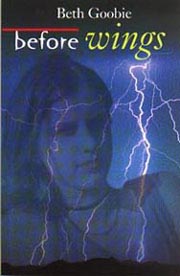 Before Wings
by Beth Goobie
Orca Book Publishers
ISBN: 1551431637
From the book jacket:
"Having barely survived a brain aneurysm two years earlier, fifteen-year-old Adrien, working at her Aunt Erin's summer camp, is caught between the land of the living and the spirit world, unsure where she belongs. Faced with the knowledge that another potentially fatal aneurysm could strike her at any time, Adrien struggles to understand the message delivered by the spirits of the five young women that only she sees—a message that seems to hold the key to the dark secret that haunts her aunt.
"Beth Goobie is the award-winning author of fourteen books of fiction, poetry and drama. She presently lives in Saskatchewan."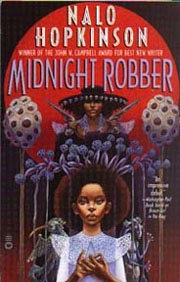 Midnight Robber
by Nalo Hopkinson
Warner Books
ISBN: 0446675601
From the book jacket:
"It's Carnival time and the Caribbean-colonized planet of Toussaint is celebrating with music, dance, and pageantry. Masked 'Midnight Robbers' waylay revelers with brandished weapons and spellbinding words. But to young Tan-Tan, the Robber Queen is simply a favourite costume to wear at the festival—until her power-corrupted father commits an unforgivable crime. Suddenly, both father and daughter are thrust into the brutal world of New Half-Way Tree. Here monstrous creatures from folklore are real, and the humans are violent outcasts in the wilds. Here Tan-Tan must reach into the heart of myth—and become the Robber Queen herself. For only the Robber Queen's legendary powers can save her life ... and set her free.
"Nalo Hopkinson has gained spectacular acclaim for her unique vision and the way she brings the vibrant traditions of Caribbean literature and lore to modern science fiction. The author of Brown Girl in the Ring, winner of the Locus Award for Best First Novel and finalist for the Philip K. Dick award now offers a haunting new tale of innocence and experience."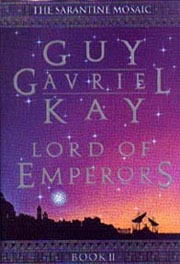 Lord of Emperors
by Guy Gavriel Kay
Penguin Books Canada
ISBN: 0670880922
From the book jacket:
"Crispin, the mosaicist, having finally arrived in fabled Sarantium, wants nothing more than to confront the demands of his art high upon the dome of Emperor Valerius's magnificent sanctuary. But beneath him, the city swirls with rumours of war and gathering intrigue while mysterious fires flicker and disappear in the streets at night. Valerius is looking west to Crispin's homeland, and how he decides to address the question of his fractured empire may have dire effects on Crispin's family and friends in Varena. What is more, whether he likes it or not, Crispin has ties with both the Emperor and the Empress Alixana, and also with his own monarch, exiled in Sarantium—the youthful Queen Gisel. And there are others, friends and enemies—from soldiers and dancers to chariot-racers and one very dangerous aristocrat—who further complicate all his attempts to set himself apart. In Sarantium, it seems, no man may easily withdraw from the turmoil of court and city, or forget that the presence of the half-world is always close by...
"Guy Gavriel Kay is the award-winning author of seven previous novels. The Summer Tree, The Wandering Fire and The Darkest Road (which comprise the Fionavar Tapestry) were followed by Tigana, A Song for Arbonne and The Lions of Al-Rassan, all of which were national bestsellers. Sailing to Saratium, the first volume of The Saratine Mosaic, was published to international critical acclaim and was a national bestseller. Guy Gavriel Kay's work has been translated into fifteen languages. He lives in Toronto."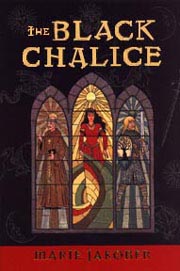 The Black Chalice
by Marie Jakober
Edge Science Fiction and Fantasy Publishing
ISBN: 1894063007
From the book jacket:
"The year is 1134. In an isolated monastery, an aging monk begins the history of a war. It is in part his own story; he was there, thirty-one years before, as squire to the proud Crusader knight Karelian of Lys—a man who abandoned his faith and betrayed his liege lord for the love of a pagan witch. But even as Paul begins his history, a strange encounter with the Otherworld enchants his quill. He can no longer write the cautionary Christian tale his superiors expect; he must write what he truly remembers. But what does he truly remember? All his life he has re-arranged his memories to suit his faith. He has judged Karelian, judged the woman, judged the world. Now, against his will, an entirely different story begins to emerge...
"Marie Jakober grew up in a log cabin on a small homestead in northern Alberta, Canada. Her home schooling, by correspondence, and an imaginative flair for storytelling, brought her international recognition at age 13 with the publication of her poem 'The Fairy Queen.' Ms. Jakober is intrigued by power and its effects on people and societies; she writes both speculative and historical fiction. The Black Chalice is her fifth novel. She lives in Calgary, Alberta, where her pleasures in life include beautiful music, great food and fascinating conversations."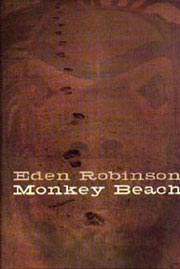 Monkey Beach
by Eden Robinson
Alfred A. Knopf Canada
ISBN: 0676970753
From the book jacket:
"On the peaceful shore of the Douglas Channel lies the remote Haisla community of Kitamaat, British Columbia. Seventeen-year-old Jimmy Hill, ambitious and handsome, is the pride of the village: an Olympic hopeful. Despite being sought after by the local boy-chasers, serious-minded Jimmy show little interest in courtship—until he falls in love with Karaoke, tough as nails and the village beauty. But their young romance is cut short by the news of a horrifying accident at sea and Jimmy's mysterious disappearance. Circling the disaster are Monkey Beach's remarkable and endearing characters: Jimmy's older sister Lisamarie, our wayward narrator; their loving parents, struggling to marry their Haisla heritage with Western ways; Uncle Mick, Native-rights activist and devoted Elvis fan; the thrifty, self-directed Ma-ma-oo (Haisla for 'grandmother'), guardian of the old traditions. But Lisamarie has other advisors less tangible or trustworthy: ghosts, sasquatches and animal spirits that weave their way into her life as she struggles with Jimmy's vanishing.
"Eden Robinson is a First Nations woman whose father is Haisla and whose mother is Heiltsuk (Bella Bella). She grew up in Haisla territory near Kitammat, B.C., and published her first book—a collection of stories called Traplines—in 1996. Traplines was awarded the Winifred Holtby Prize for the best first work of fiction in the Commonwealth, and was selected as a New York Times Editor's Choice and Notable Book of the Year. Eden Robinson lives in North Vancouver. Monkey Beach is her first novel."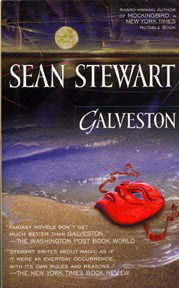 Galveston
by Sean Stewart
ACE Books
ISBN: 0441008003
From the book jacket: "Galveston had been baptized twice. Once by water in the fall, 1900. Again by magic during Mardi Gras, 2004. Creatures were born of survivors' joy and sufferers' pain: scorpions the size of dogs, the Crying Clown, the Widow who ate her victims. And the Island of Galveston would forever be divided—between the real city and a city locked in a constant Mardi Gras, an endless Mardi Gras..."
From Sean Stewart's website: Sean Stewart has published seven novels about real people in slightly impossible circumstances. He has won four national awards in Canada, had two novels chosen as New York Times Notable Books, and been published in five languages, of which Hebrew is the coolest because they read upside down and backwards. His novel Mockingbird was a finalist for the Nebula and World Fantasy awards. His traditional motto is, "I want to write meaning-of-life thrillers—books that explore the most profound aspects of human existence, but don't skimp on swordfights." This is pretty rich because he keeps editing out the damn swordfighting scenes, but he was a pretty good fencer once and, God help him, some day he's going to get that dueling scene back in.
Mr. Stewart is currently residing in California.


AND THE AWARD GOES TO...


LIST OF BOOKS FROM WHICH THE 2001 SHORTLIST WAS CHOSEN