You are here
2008 Sunburst Award Winners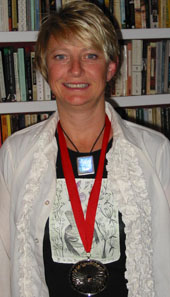 Toronto, September 17, 2008: The Sunburst Award Committee is pleased to announce that the winner of its first young-adult award is Anthem of a Reluctant Prophet by Joanne Proulx (Viking Canada, ISBN 0670066680), while The New Moon's Arms (Warner Books, ISBN 0446576913) has garnered Nalo Hopkinson her second adult award. She also won a Sunburst Award in 2003. (Joanne Proulx is pictured right with her Sunburst Award; photo by Peter Halasz.)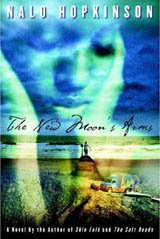 The Sunburst Award for Canadian Literature of the Fantastic is a prized and juried award presented annually. It is based on excellence of writing and awarded to a Canadian writer who has published a speculative fiction novel or book-length collection any time during the previous calendar year. Named after the novel by Phyllis Gotlieb, one of the first published authors of contemporary Canadian speculative fiction, the award consists of a cash prize of $1,000 and a hand-crafted medallion which incorporates a "Sunburst" logo, designed by Marcel Gagné. This is the first year that a YA award has been given. The eligibility requirements of the YA award are the same as for the adult award except for the age of the audience to which the work is addressed; the prize is the same as well.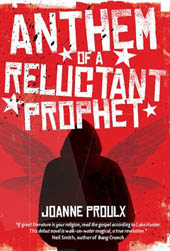 About Anthem of a Reluctant Prophet, the Sunburst jury said: "Proulx doesn't shy away from showing the tumultuous mix of beauty and ugliness at work in the mind of a teen stoner. Her debut novel tackles ESP, drug use, teen sexuality and the mores of small-town conservative Michigan all foregrounded against the soundscape of Luke Hunter's life. There is no doubt teens will recognize many of the characters in this uncomfortable novel. The book, like the protagonist, is not without flaws; Proulx's huge accomplishment here is writing a character whose rage, frustration and love are palpable through the disaffected teen voice." About The New Moon's Arms, the jury said: "Nalo Hopkinson crafts an engrossing story featuring an unforgettable character. With generous doses of mystery, humour, magical fantasy and insight, The New Moon's Arms is an entrancing read." Joanne Proulx lives in Ottawa; Nalo Hopkinson lives in Toronto. The jurors for the 2008 awards were Timothy Anderson, Kelley Armstrong, Barbara Haworth-Attard, Dena Taylor and Robert Wiersema. They selected five shortlisted works in each category as representing the finest of Canadian fantastic literature published during the 2007 calendar year. The other shortlisted works for the 2008 adult award were:
Michelle Butler Hallett, Double-blind
Amber Hayward, Darkness of the God
William Neil Scott, Wonderfull
Robert Charles Wilson, Axis
The other shortlisted works for the 2008 YA award were:
Deborah Lynn Jacobs, Choices
Carrie Mac, Retribution
Kenneth Oppel, Darkwing
Drew Hayden Taylor, The Night Wanderer
The 2009 award jurors will be Barbara Berson, John Dupuis, Ed Greenwood, Sandra Kasturi and Simon Rose.