You are here
2013 Shortlists
Adult Shortlist
Finton Moon
by Gerard Collins
Killick Press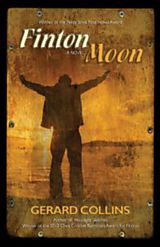 The Sunburst Award jury says: Growing up in the 1970s in the outport town of Darwin, Newfoundland—a place connected to, but remote from, the rest of the province—Finton Moon realizes from an early age that he is different. He seems to have the ability to heal the wounds of himself, and others; an ability which sets him even further apart from his community, and the people around him, even as he desperately wants to belong. The author grounds Finton Moon in warts-and-all reality, his lyrical storytelling creating a vivid and realistic world full of all-too-human characters, where poverty and violence exist alongside friendship and love, and where Finton must learn to find his way. It is a magical and compelling novel, like a long-form version of a Maritime ballad.
Gerard Collins is a writer and teacher whose award-winning fiction has appeared in various journals. Finton Moon is his first novel. He lives in St. John's, and teaches English Language and Literature at Memorial Universoty of Newfoundland.
Maleficium
by Martine Desjardins; translated by Fred A. Reed and David Homel
Talonbooks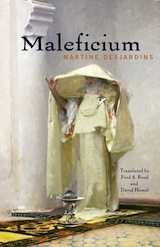 The Sunburst Award jury says: Rumour and speculation have it that there is hidden, somewhere in the archives of the Archdiocese of Montreal, a book so dangerous that the Church denies its existence. A copy has been found amongst papers of the author's family, however, and its interlocking stories—originally told under the seal of confession—are here presented. Gorgeous and multilayered, Maleficium is a complex, devious, and vivid novel, in which all the senses, and most of the deadly sins, are invoked to exquisite and diabolical effect. Situated where Maria Monk meets the Arabian Nights, it weaves together elements at a thousand knots per square inch, its darkness of frame and intricacy of structure combining to subvert the pattern by the final chapter.
Martine Desjardins was assistant editor-on-chief for ELLE Québec before leaving to devote herself to writing. She currently works as a rewriter, translator, and journalist for L'actualité. She lives in the Town of Mount Royal.
Over the Darkened Landscape
by Derryl Murphy
Fairwood Press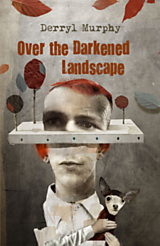 The Sunburst Award jury says: In this wonderful collection, Derryl Murphy ranges over the whole territory of speculative fiction, from hard SF to magical realism and back again. He is particularly adept at mining history in stories that twist and tweak reality, turning it into the thought-provoking "what if?" of great speculative fiction. Whether he is writing of a society where government cutbacks have created an interesting way for private citizens to make money, a legendary artist's battle with an equally legendary creature of myth, a town where growing old is the exception rather than the rule, or a poignant phone call between a husband and wife separated by a distance that can never be crossed, Murphy's stories mix fantasy and horror, the extraordinary and the everyday, to stunning effect.
Derryl Murphy is the author of Napier's Bones, which was a Best Novel finalist at the Prix Aurora Awards, as well as numerous short stories. He currently lives in the depths of the Canadian prairies.
The Blondes
by Emily Schultz
Doubleday Canada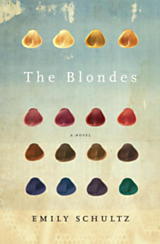 The Sunburst Award jury says: Alone in New York, Hazel Hayes is desperately trying to get her life together. Her thesis isn't going well, she's running low on cash, and she's just discovered she's pregnant after an affair with her married tutor. To complicate matters even further, random acts of violence and savagery are breaking out everywhere, acts perpetrated exclusively by light-haired women, and no one can explain why—or knows how to stop it. At once a gripping page-turner and a wryly satirical takedown of the omnipresent apocalypse-meme, The Blondes is a perceptive look at a world where certain women are to be feared and controlled—with brutality, if necessary—and where beauty is not only skin deep, but can kill you.
Emily Schultz is a writer of fiction and poetry whose novel Heaven is Small was a finalist for the 2010 Trillium Book Award. She is also the co-founder of the online literary magazine Joyland. She divides her time between her native southwestern Ontario and New York City.
Westlake Soul
by Rio Youers
ChiZine Publications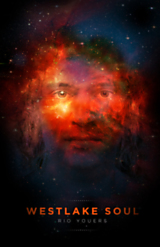 The Sunburst Award jury says: In the midst of life, Westlake Soul is as good as dead. A surfing accident has left him trapped in a vegetative state inside his now useless body, but as compensation he has been given extraordinary mental powers, as well as a bitter enemy: Dr. Quietus, an embodiment of death itself. Westlake copes with his tragedy and the grief of his loved ones through soaring acts of imagination—but are they really all in his head? Youers' masterful storytelling leaves us wondering just what Westlake is capable of doing, once he sets his formidable brain to work on the problem. Westlake Soul is poignant, funny, and extraordinarily moving as we share Westlake's thoughts, hopes, and dreams, and watch as he—and those around him—struggle to cope with the changed reality of their lives.
Rio Youers is the British Fantasy Award-nominated author of Old Man Scratch and End Times. He lives in southwestern Ontario.
Young Adult Shorlist
The Green Man
by Michael Bedard
Tundra Books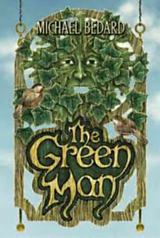 The Sunburst Award jury says: Fifteen-year-old O—short for Opehlia, but don't call her that—spends the summer with her Aunt Emily, whose poor health means that Emily is as much nurse as niece. A well known poet in her day, Emily now runs a ramshackle secondhand bookstore called The Green Man, and over the course of the summer O will discover that it is not only her aunt who is haunted by the past. The author's lyrical prose illuminates this haunting love story to the written word, and its power to captivate, enchant, and possess. Sympathetic characters, a creeping evil which must be defeated, and an endearing phantasmagorical Dead Poets Society inhabiting a bookshop are only some of the delights in this heavenly read.
Michael Bedard is an award-winning author of several books for young readers, as well as picture books. His major work of non-fiction is William Blake: The Gates of Paradise. He lives in Toronto.
Pirate Cinema
by Cory Doctorow
Tor Teen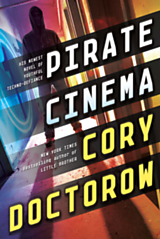 The Sunburst Award jury says: In a near-future Britain where Internet piracy is taken seriously—some would say too seriously—three violations of the law means your household is cut off from the Internet for a year. Sixteen-year-old Trent, a computer wizard, is sure that it will never happen to him—until it does, nearly destroying his family. Trent flees to London, where he bands together with others fighting an even more draconian digital piracy bill being touted by a government in the grip of powerful media conglomerates. As anarchic in language as it is in events, Doctorow's near-future tale of sedition and the Internet reads like it is already happening.
Cory Doctorow is an editor, columnist, and novelist, and was named one of the Web's twenty-five "influencers" by Forbes magazine, as well as Young Global Leader by the World Economic Forum. He currently lives in London.
Seraphina
by Rachel Hartman
Doubleday Canada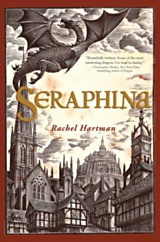 The Sunburst Award jury says: In the kingdom of Goredd, humans and dragons have co-existed in an uneasy peace for four decades, but tensions still run high. The dragons are able to present themselves in human shape, which gives them some safety, but cannot protect them from all elements of a society which forever see them as the other. Into this world comes Seraphina, a young and gifted musician who joins the royal court as the anniversary of the peace treaty nears, and a member of the royal family is murdered, apparently by dragons. Seraphina finds herself drawn into the investigation, which puts her in danger from both sides, for reasons she dare not reveal. This is a grand and enchanting tale, as rich and intricate as a medieval tapestry, told beautifully. Hartman's wildly imaginative, well-drawn, and intricate world of dragons and men is definitely a world that bears watching, and Seraphina is a fine, fitting heroine, making her independent way while struggling with a legacy which can be both a blessing and a curse.
Rachel Hartman's interest in music led to the writing of Seraphina, which is her first novel. She lives in Vancouver.
Bright's Light
by Susan Juby
HarperCollins Publishers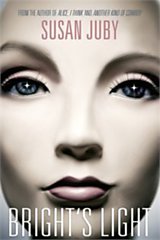 The Sunburst Award jury says: In a future of engineered beauty, Bright exists to look and be perfect. She's definitely not supposed to think for herself, or ask questions; but when one of the support staff begins working on a mission towards enlightenment, Bright finds herself drawn towards a future that could set her free, if she doesn't get rebooted first. Slyly clever and unabashedly entertaining, Bright's Light will have you laughing out loud; but don't be fooled. The novel has much to say about where our contemporary preoccupations with looks, fashion, status, and mindless entertainment might lead, and is one of the most original YA reads you'll ever see. A pointed, hilarious and yet affectionate satire on popular culture.
Susan Juby is the author of several YA novels, including the bestselling Alice series, as well as a novel for adults, The Woefield Poultry Collective. She lives on Vancouver Island.
Rebel Heart
by Moira Young
Doubleday Canada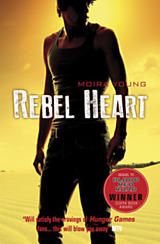 The Sunburst Award jury says: Strikingly original and unremittingly dark, Rebel Heart propels the reader through the Dust Lands, where dark powers are on the rise, a new enemy is gaining power, and violence and cruelty are a way of life. The world Young has created is fully-realized and atmospheric, with a vivid group of characters struggling to find their place in it. The prose is dark, gritty, and muscular, like the Dust Lands itself, eschewing sentimentality in favour of a Cormac McCarthy-esque style that beautifully suits the author's needs, the characters' development, and the setting itself. Post-apocalypse was never so grindingly wretched, in the best possible way.
Rebel Heart is the second book in Moira Young's Dust Lands trilogy, and follows Blood Red Road. She now lives in the United Kingdom.