You are here
Shortlists for the 2009 Sunburst Awards
ADULT SHORTLIST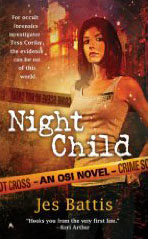 Night Child
Ace
ISBN: 0441016022
From the book jacket:
"That's a dead vampire
, I thought.
My boss dragged me out of bed at two in the morning to see a dead vampire? I might be an Occult Special Investigator for Vancouver's Mystical Crime Lab, but a dead vampire is routine, and no reason to disturb a person's sleep!
Then I took a closer look at the body... "Tess Corday soon realizes that there is not going to be anything ordinary about this case. Not the lab results on the cause of death. Not Mia Polanski, the teenage girl living at the address found in the vamp's pocket, who may well be in thrall to a demon. And certainly not Lucian Agrado, the necromancer who is liaison to the vampire community. Agrado is supposed to be part of the solution, but Tess suspects he might be part of the problem."
The Sunburst jury says:
"Occult Special Investigator Tess Corday is a terrifically appealing heroine—determined, charming, vulnerable and very human in a world of vampires, necromancers and other supernatural menace.
Night Child
takes what is becoming a hackneyed genre—romantic supernatural investigator—and injects it with a kind of manic, crazy, campy fun: a little bit
Buffy
, a little bit
CSI
and even a little bit hardboiled."
J
es Battis
is a Vancouver native who earned his B.A. at University of the Fraser Vallery and his M.A. and Ph.D. at Simon Fraser University. He is an Assistant Professor in the Department of English at the University of Regina, Saskatchewan. His previous books were on
Buffy The Vampire Slayer
and
Farscape
. According to his website, his research "focuses on issues of sexuality, adolescence, and occult systems within contemporary fantasy and science fiction literature."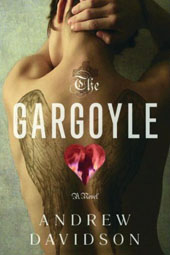 The Gargoyle
by Andrew Davidson
Random House Canada
ISBN: 0307356779
From the book jacket: "On a burn ward, a man lies between living and dying, so disfigured that no one from his past life would even recognize him. His only comfort comes from imagining various inventive ways to end his misery. Then a woman … walks into his hospital room, a wild-haired, schizophrenic sculptress on the lam from the psych ward upstairs, who insists that she knows him—that she has known him, in fact, for seven hundred years."
The Sunburst jury says: "An unquenchable thirst for story and a phenomenal command of his craft make Andrew Davidson's The Gargoyle a reader's dream. This ferociously ambitious, incendiary (at times literally) story of one man's phoenix-like transformation at the hands of a woman, possibly mad, who claims to have known him for 700 years, is prepared to fall on its own highly charged imaginative sword at any time, but never does.  Davidson manages to evoke squirm-inducing horror and abiding love with the same unblinking powers of observation and self-consciousness. As the relationship between narrator and Marianne deepens and her tale of their shared history unfolds, past and present converge in ways tragic and redemptive, and immensely satisfying."
Andrew Davidson grew up in Winnipeg and graduated in 1995 with a B.A. in English literature from the University of British Columbia. He has worked as a teacher of English in Japan, where he has lived on and off since the late 1990s, and as a writer of English lessons for Japanese websites. He started working on hir first novel, The Gargoyle, in 2000, during a five-year stint as a technical writer.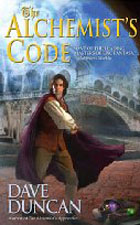 The Alchemist's Code
Ace
ISBN: 044101562X
From the book jacket: "The legendary Maestro Nostradamus may be able to glimpse the ever-changing future, but even he cannot see the danger that is about to envelop him and his daring apprentice Alfeo when Nostradamus is hired to find a foreign spy by Venice's ruling Council of Ten...."
The Sunburst jury says: "With The Alchemist's Code, Dave Duncan accomplishes something which seems to have become an increasing rarity in this or any other genre—the telling of an exciting, interesting and coherent story that has an actual beginning, middle and end—a skill surprisingly lacking in many writers. Set in an alternate 16th-century Venice filled with lush architecture, dashing gondoliers, sultry courtesans, political intrigue and magic, young Alfeo is apprenticed to doctor/prognosticator extraordinaire Nostradamus. When the corpse of an old friend, skewered by Alfeo's own rapier, is left, literally, on his doorstep, it's up to Alfeo and Nostradamus to solve the crime and restore order—whilst still trying to earn a living, capture a spy, and eat a decent meal, not to mention trying to avoid accusations of witchcraft and being burned at the stake. While technically a sequel to Duncan's earlier The Alchemist's Apprentice, readers can jump right into Code and feel right at home—again, a subtle skill on the writer's part that should be lauded. A charming book, full of wit, good humour, and some jolly good mental and physical fencing. Not to mention some delicious-sounding risotto."
The Alchemist's Code is the second book in Dave Duncan's The Alchemist series. Dave is the author of more than 40 novels, mostly in the fantasy genre but also young adult, science fiction, and historical. He is currently working on a new series, The Brothers Magnus, the first book of which, Speak to the Devil, is scheduled for publication in April 2010. He lives in Victoria.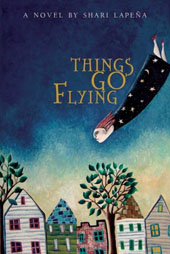 Things Go Flying
Brindle & Glass
ISBN: 1897142307
From the book jacket: "Harold Walker, desperately average, is in the throes of a mid-life depression. His wife Audrey clings to an illusory sense of control—over their home, their teenaged sons … and her own explosive secret. The death of a … friend triggers a series of perturbing events that catapults Harold out of his La-Z-Boy and throws the household into chaos. Things go flying when the dead begin communicating with Harold, leaving Audrey's secret vulnerable to exposure and Harold more confused than ever."

T

he Sunburst jury says: "Shari Lapeña's disarmingly deadpan novel of domestic dysfunction nudges readers into the realm of the uncanny, wherein the oh-so-familiar is suddenly rendered strange, even frightening, but which, when faced, leads its characters back to the familiar, and the essential truths of who they are. As the Walker family begins to disintegrate in the usual ways of busy modern urban families, the unusual and extraordinary begin to happen. Eventually, the boundaries between normal and paranormal are blurred to the extent that everything—from a husband and father's midlife crisis to a teenage boy's exploration of sex and identity—is edged with strangeness, with magic and finally wonder. A gem."

Shari Lape

ñ

a

holds

an Honours B.A. in Political Economy from the

University

of

Toronto

, a Bachelor of Laws from

OsgoodeHallLawSchool

(

YorkUniversity

) and a Bachelor of Education from the

University of Toronto

and was a lawyer and teacher before turning to writing.

Her work has been shortlisted for the Canadian Broadcasting Corporation Literary Awards, and in 2004 she won the Great Toronto Literary Project contest. She is an alumnus of the HumberSchool for Writers in Toronto, where she lives. Things Go Flying is her first novel.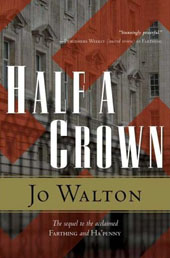 Half a Crown
Tor
ISBN: 0765316218
From the book jacket: "In 1941 the European war ended in the Farthing Peace, a rapprochement between Britain and Nazi Germany. The balls and banquets of Britain's upper class never faltered, while British ships ferried 'undesirables' across the Channel to board the cattle cars headed east.
"
Peter Carmichael is commander of the Watch,
Britain
's distinctly British secret police. It's his job to warn the Prime Minister of treason, to arrest plotters, and to discover Jews.... "Now, in 1960, a global peace conference is convening in
London
, where
Britain
,
Germany
, and
Japan
will oversee the final partition of the world. Hitler is once again on British soil. So is the long-exiled Duke of Windsor—and the rising gangs of 'British Power' streetfighters, who consider the Government 'soft,' may be the former king's bid to stage a coup d'état.
"
Amidst all this, two of the most unlikely persons in the realm will join forces to oppose the fascists: a debutante whose greatest worry until now has been where to find the right string of pearls, and the Watch Commander himself."
The Sunburst jury says: Half a Crown "presents a striking contrast between the increasingly grim reality faced by one protagonist with the lighter observations of an initially naïve second major character, walking a difficult tightrope of growing suspense until both protagonists face consequences, and the stakes and tension rise grippingly. Although some readers will find the ending jarring, the book is an outstanding examination of both how evil can become 'normal' and of personal courage (of 'doing what is right' rather than two-fisted heroics). A heroine takes shape before the readers' eyes."
Half a Crown is the third volume in Jo Walton's alternate-history Small Change series, preceded by Farthing (2006) and Ha'penny (2007). Jo won the John W. Campbell Award for Best New Writer in 2002 for The King's Peace and the World Fantasy award for her novel Tooth and Claw in 2004. Her novel Among Others is scheduled for publication by Tor in 2010. She comes from Wales but lives in Montreal, where the food and books are more varied.
Jury's Recommended Reading
The jury felt that the following merited Honourable Mention:
Blackouts, by

Craig Boyko

The Frankenstein Murders, by Kathlyn Bradshaw

Here After, by Sean Costello

Toll the Hounds, by Steve Erikson

The Seary Line, by Nicole Lundrigan

After the Fires, by Ursula Pflug
Blasted, by Kate Story
YOUNG-ADULT SHORTLIST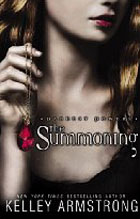 The Summoning
Doubleday Canada
ISBN: 0385665342
From the book jacket: "After years of frequent moves following her mother's death, Chloe Saunders's life is finally settling down. She is attending art school, pursuing her dreams of becoming a director, making friends, meeting boys. Her biggest concern is that she's not developing as fast as her friends are. But when puberty does hit, it brings more than hormone surges. Chloe starts seeing ghosts everywhere, demanding her attention...."
The Sunburst jury says: "A necromancer just realizing her true self and the extent of her powers in a mysterious and potentially dangerous world, Chloe Saunders is also a typical teenage girl starting at a new high school in Toronto. After causing a stir at school when she sees some ghosts, she ends up at a group home for troubled teens. It is there that the world of the supernatural collides with the world of the adolescent. The Summoning combines those two worlds beautifully in a coming-of-age story that is exciting and suspenseful, tender and affecting. It captures teen angst with perfect pitch, and without a whiff of sentimentality."
After graduating with a degree in psychology, Kelley Armstrong switched gears and studied computer programming. Currently, she's a full-time writer and parent. The Summoning is book one in her Darkest Powers YA urban-fantasy series; book two, The Awakening, came out in May 2009. Frostbitten, book 10 in the Otherworld paranormal fantasy series (which began with Bitten, 2001), will be published in October 2009. She has also written short stories, a comic series, amd the ongoing Nadia Stafford mystery series. Kelley lives in rural Ontario.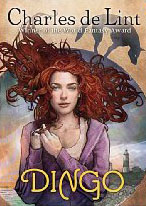 Dingo
Viking
ISBN: 9780142408162
From the book jacket: "High school senior Miguel's life is turned upside down when he meets new girl Lainey, whose family has just moved from Australia. With her tumbled red-gold hair, her instant understanding of who he is, and her unusual dog—a real Australian dingo—she's unforgettable. And, as he quickly learns, she is on the run from an ancient bargain made by her ancestors. There's no question that Miguel will do whatever he can to help her—but what price will each of them have to pay?"

T

he Sunburst jury says: "Teenager Miguel discovers that his new Australian girlfriend, along with her twin sister, are shape-shifters, half human and half dingo. De Lint expertly weaves Australian folklore throughout and switches effortlessly from everyday settings such as Miguel's high school or his father's comic and music store to the mythical realm of the Dreamtime. Similarly, we think nothing of how otherworldly creatures appear in a contemporary North American setting. The characters are well drawn, in particular the two sisters with their contrasting personalities, and the way in which Miguel and his long-term nemesis, Johnny, have to put aside their differences to release the girls from a centuries-old curse is really well handled. Dingo is a well-written, highly imaginative and unusual fantasy novel that stands out from other current novels for the YA age group. This book demands to be read from cover to cover in one sitting, and fortunately that's very easy to do."

Charles de Lint is credited as having pioneered the contemporary fantasy genre with his 1984 urban fantasy novel Moonheart, which is still in print. His work includes 65 books published to date. He has been a finalist 17 times for the World Fantasy Award, and won in 2000 for his story collection Moonlight and Vines. These stories (and most of his recent novels) are set in his fictional city of Newford. A respected critic in his field, de Lint is currently the primary book reviewer for The Magazine of Fantasy & Science Fiction. He has also been a professional musician for more than a quarter of a century. He lives in Ottawa.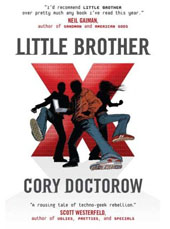 Little Brother
Tor
ISBN: 0765319853
From the book jacket: "Marcus, a.k.a 'w1n5t0n,' is only seventeen years old, but he figures he already knows how the system works—and how to work the system. Smart, fast, and wise to the ways of the networked world, he has no trouble outwitting his high school's intrusive but clumsy surveillance systems.... But his whole world changes when … he and his friends find themselves caught in the aftermath of a major terrorist attack on San Francisco...."
The Sunburst jury says: "Many novels take a chapter or two to introduce the setting and protagonists and get the plot on the road. Not so Little Brother—it sings and zings from the first page, perhaps even the first line. Readers will immediately be swept up in the story of 17-year-old Marcus and his buddies, who, after a terrorist attack on not-so-far-future San Francisco, get caught in a government street-sweep simply because, well, they were there. So they must be guilty, right? After Marcus is finally let go, he decides that something needs to be done about this horrifying erosion of liberties and the scary world made scarier by the very people who are supposed to protect us. Besides, some of his friends are still, ominously, missing. Using his technogeek expertise, the Internet and every contact he has, Marcus takes on the school system, the government, Homeland Security, and anyone else standing in the way of freedoms both small and large. In anyone else's hands this material might so easily have come off as preachy or even trite, but Doctorow's superb handling of his protagonists and his plot turn the story into a nail-biting, heartbreaking, rollercoaster of a novel that will leave the reader anguished and sweating over the fate of its characters. Thankfully, the novel wasn't doled out in installments, like Dickens, or we would all have been waiting on the virtual pier, begging to know what became, not of Little Nell, but of Marcus and his friends. A gem of a book—topical, well written, and not to be missed."
Cory Doctorow is the co-editor of the Boing Boing blog and the former European director of the Electronic Frontier Foundation. He has won the Locus Award and the Campbell Award and has been nominated for the Hugo and Nebula Awards. In 2004 he won the Sunburst Award for his story collection A Place So Foreign and 8 More, and his novel Someone Comes to Town, Someone Leaves Town was shortlisted in 2006. He lives in London, England, and he hopes his readers will use technology to change the world.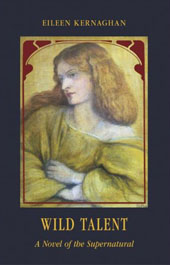 Wild Talent:
A Novel of the Supernatural
Thistledown Press
ISBN: 9781897235409
From the book jacket: "Wild Talent: a Novel of the Supernatural is the strange tale of Jeannie Guthrie, a sixteen-year-old Scottish farm worker, who possesses a frightening talent. Believing that she has unintentionally killed her ne'er-do-well cousin, her fear of being sentenced as a witch propels her to flee her home to London. There, Guthrie is befriended by the free-spirited and adventurous Alexandra David, and introduced to Madame Helena Blavatsky's famous salon where she begins to understand the source of her strange powers."
The Sunburst jury says: "An absorbing, carefully crafted coming-of-age story and a vividly successful evocation of Victorian occult worlds, with real people and events skillfully interwoven with the author's fictional supernatural elements (and the false supernatural of charlatans), this book reads like a superb historical novel as well as a superior fantasy."
The novels of award-winning author and poet Eileen Kernaghan include The Aprilioth Sequence (Journey to Aprilioth, 1981; Songs from the Drowned Lands, 1983, and The Sarsen Witch, 1989, reissued 2007), Dance of the Snow Dragon (1995), The Snow Queen (2000), The Alchemist's Daughter (2004), and Winter on the Plain of Ghosts: A Novel of Mohenjo-daro (2004). She lives in British Columbia.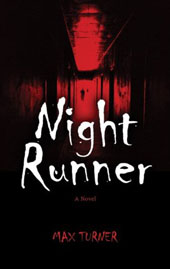 Night Runner
by Max Turner
HarperTrophy
ISBN: 9781554680849
From the book jacket: "For Zack Thomson, living in the Nicholls Ward isn't so bad. After his parents died, he developed strange and severe allergies, and the mental institution was the only place where he could be properly looked after. As strange as it was, it was home.... He could watch as much television as he wanted; his best friend Charlie visited him often enough; and Nurse Ophelia—the prettiest no-nonsense nurse ever—sometimes took him bowling. Of course, that didn't mean he had it easy. His allergies restricted his diet to strawberry smoothies, and being the only kid at the hospital could get lonely. But it never once crossed Zack's mind to leave ... until the night someone crashed through the front doors and told him to run...."

T

he Sunburst jury says: "Night Runner is an entertaining and well-crafted novel that offers a fresh take on the vampire genre. From the first paragraph, in which protagonist Zach Thomson tells us that 'this is the story of how I died, twice,' readers are completely pulled in. The story is action-packed right from the start, and it blasts off at a pace as quick and exciting as the chase scenes that appear throughout the novel. All the characters are vividly portrayed and the dialogue is extremely well crafted. Zack Thomson in particular is a highly original character with a distinctive voice. The reader believes in him, urging him on through page-turning plot twists in this story of an eternal war between good and evil.  Once we started reading, we couldn't put it down."

Max Turner lives in Ottawa, where he is a high-school teacher (science and tech). Night Runner is his first novel, to which he has already written a sequel.
Jury's Recommended Reading
The jury felt that the following YA works merited Honourable Mention:
Feather Brain, by Maureen Bush
Watching July, by Christine Hart
Starclimber, by Kenneth Oppel
Far, by Carol Matas
Jolted:

Newton Starker's Rules for Survival

, by

Arthur Slade
Shadow Town, by Duncan Thornton
The Incredibly Ordinary Danny Chandelier, by Laura Trunkey