You are here
Shortlists for the 2010 Sunburst Awards
ADULT SHORTLIST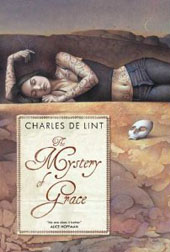 The Mystery of Grace
Tor
ISBN: 0765317567
The Sunburst jury says:
"On Halloween, artist John Burns meets heavily tattooed garage mechanic Altigracia ('Grace') Quintero, and they bond over a shared love of rockabilly music. The two fall into bed and subsequently into love, but the relationship is complicated by the fact that Grace has been dead for two weeks already and may be forever trapped forever inside the neighbourhood she occupied during life.
"Like most de Lint, this book is beautifully written and existentially sad, full of sensual detail and offhand magic; it also has equally interesting things to say about free will, 'fate' and the transformative nature of grief. And though the mysteries of Grace are many, de Lint's talent remains undeniable."

Charles de Lint is credited as having pioneered the contemporary fantasy genre with his 1984 urban fantasy novel Moonheart, which is still in print. He has been a finalist more than 15 times for the World Fantasy Award, and won in 2000 for his story collection Moonlight and Vines. A respected critic in his field, de Lint is currently the primary book reviewer for The Magazine of Fantasy & Science Fiction. He has also been a professional musician for more than a quarter of a century, with his main instruments being flute, fiddle, whistles, vocals and guitar. He lives in Ottawa.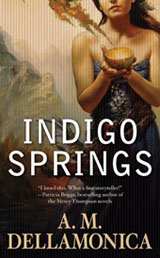 Indigo Springs
Tor
ISBN: 0765319470
T
he Sunburst jury says:
"When Astrid returns to the town of Indigo Springs and to the house she has inherited from her father, accompanied by Sahara, the girlfriend she has a crush on, and Jake, her platonic buddy who has a crush on her, she finds that, far from being the dissipated drunk the town thought him, her father was a crafter of magical objects called 'chantments,' using the power of the mysterious spring of blue waters beneath the house. When Astrid and
Sahara
learn to use the power for themselves, they discover the magic is both addictive and transformative. As their power grows, their experiments escalate into an ecological crisis ... and open an unbridgeable chasm between them.
"Original, passionate, lyrical and powerful, entertaining and terrifying at once, Dellamonica's debut novel examines how both good intentions and good people can be overthrown by the temptations of power."
A.M. Dellamonica
has had stories published in various fantasy and science fiction magazines and anthologies. She lives in
Vancouver
, where she is at work on
Blue Magic
, the sequel to
Indigo Springs
.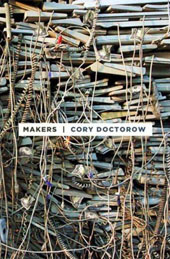 Makers
Tor
ISBN: 0765312794
The Sunburst jury says: "A busy, optimistic, science-exciting, reality-scary story in a near-future time when a meritocracy is the last resort of a world that badly needs fixing. Enter two inventors and DIYers, Lester and Perry, and their bio-blogger, Andrea Fleeks, who documents their rise and fall. While the novel is probably tailor-made for this generation of multi-screen viewers, the pace is sometimes exhausting, but good-exhausting, like the interactive fair rides which figure so prominently. As a comically dystopian view of the near future, it isn't that far off the mark, and unfortunately is a bit on-the-nose as the world weighs in with fix-it suggestions on the BP leak in the Gulf. As a novel, it rocks: Doctorow at his breathless, peripherally viewed best, half-mocking, half-predicting the pop culture future with Fatkins and modified Elmo dolls. Using left-behind technology to create something new and better is an excellent model for this sadly limping globe."
Cory Doctorow
has won the Locus Award, the Campbell Award and the Sunburst Award for his fiction, and has been nominated for the Hugo and Nebula Awards. His works include
Down and Out in the Magic Kingdom
(2003),
Eastern Standard Tribe
(2005),
Someone Comes to Town, Someone LeavesTown
(2006),
Overclocked: Stories of the Future Present
(2007) and
Little Brother
(2008). He lives in
London, England
.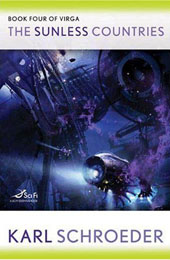 The Sunless Countries
Tor
ISBN: 0765320762
The Sunburst jury says: "The Sunless Countries returns to the vast world of Virga, a weightless balloon world where heat and light are provided by man-made fusion micro-suns. Here, Schroeder explores the dark regions of Virga. Far from the nearest sun, history tutor Leal hears a vast voice in the darkness and finds that, in the face of ignorance and willful self-interest, she is the only one willing to listen and respond.
"Immediately captivating, this is equal parts great world-building and strong characterization. Wonderfully original settings and visual detail light up this richly imagined world. Leal, her friends and her enemies are vividly drawn and sympathetic. Particularly impressive is Schroeder's ability to make this, the fourth book in the Virga series, as accessible to readers as the first."
Karl Schroeder was born in a Mennonite community in Brandon, Manitoba and was the second science fiction writer to come out of that community, the first being A.E. van Vogt. He moved to Toronto in 1986 to pursue his writing career. He became a founding member of SF Canada and was its president for two terms, and through his involvement in the writing community developed the skills and made the contacts that led to his first published novel, The Claus Effect (1997), co-written with David Nickle. His second novel, Ventus (2000), was declared a New York Times Notable book in 2001, and was shortlisted for the Sunburst Award. Subsequent books have included Permanence (2002); Lady of Mazes (2005); The Engine of Recall (2005); Sun of Suns (2006), which was nominated for the 2007 John W. Campbell Memorial Award; Queen of Candesce (2007); and Pirate Sun (2008). Since 2002, Karl has divided my time between writing fiction and consulting in the area of strategic foresight (technology foresight, chiefly in scenario design). He lives in Toronto.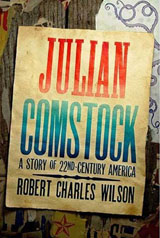 Julian Comstock: A Story of 22nd-Century America
Tor
ISBN: 0765319713
The Sunburst jury says: "Julian Comstock's plot, about friendships between boys from disparate backgrounds, tested and strengthened in battle, is an old one—altered, but not substantially, by one of them being gay. Wilson bravely brings back a pre-Internet writing style in homage to his Victorian forebears, including Mark Twain; this is particularly apt due to the novel's post-oil-crash setting of horse-drawn carriages and steam trains. In Julian and Adam, Wilson creates fully-fledged human beings we learn to care about deeply, right through to the heart-wrenching ending. The loyal Sam and plucky Calyxa are also charmingly drawn, as are the detailed sketches of town and country life in this back-to-the-future neo-feudal society."
Robert Charles Wilson lives near Toronto. His work frequently features on award ballots and includes the novels Darwinia (1998), The Chronoliths (2001), Blind Lake (2003), Spin (2005) and Axis (2007).

Jury's Recommended Reading
The jury felt that the following merited Honourable Mention:
Coupland, Douglas, Generation A (Random House)
LePan, Don, Animals (Véhicule)
Nickle, David, Monstrous Affections (ChiZine Publications)
Roden, Barbara, Northwest Passages (Prime)



YOUNG-ADULT SHORTLIST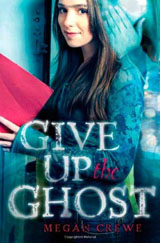 Give Up the Ghost
Henry Holt
ISBN: 0805089306
The Sunburst jury says: "The first Cass knew of her mysterious ability to see an converse with ghosts was when she found the spirit of her just-drowned sister Penny weeping on her bed because her parents couldn't sense her presence. Since then, Cass has come to prefer ghosts to 'breathers.' Betrayed and bullied by her best friend in junior high, she has carved a niche in high school by using her ghostly friends as spies to uncover the most intimate and embarrassing secrets of students and teachers alike. But her shell begins to crumble when she agrees to help Tim communicate with his dead mother ... and discovers that maybe the world of the living has more to offer than she's believed for a very long time.
"A story which seems at first to be simply a novel of wish-fulfillment for anyone who was bullied in school, Give Up the Ghost soon reveals unexpected depths of emotion and characterization that make it stand head and shoulders above the run-of-the-mill school-based YA fantasy."
Megan Crewe lives in Toronto, where she obtained a degree in psychology from YorkUniversity. When she's not writing, or reading everything she can get her hands on, she tutors children and teens with special needs and practises Fut Gar kung fu. Her short stories of fantasy, science fiction and the supernatural have appeared in numerous periodicals. Give Up the Ghost is her first novel.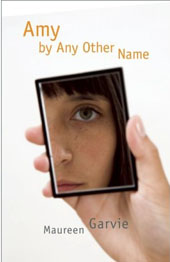 Amy by Any Other Name
Key Porter
ISBN: 1554701422
The Sunburst jury says: "Seemingly, Amy by Any Other Name is a fantasy tale about two girls who switch bodies after nearly deadly traumas—walking in front of a truck and jumping into the wrong end of a quarry—and one girl's attempt to get her body and life back. Garvie nicely takes the story a step further by illustrating how closely we associate our identity with our physical selves, not just how we look, but what we've used our bodies for. Amy and Krystal have very different lives, and once the body-switch is made, it is Amy, well-fed, well-raised, well-liked, strong, confident and talented, who takes the biggest hit. Armed with every advantage before the switch, she manages to use those advantages against all odds, recreating herself in Krystal's body.
"As a YA novel, Amy by Any Other Name rises above the typical peer-pressure-boys-and-clothes of so many of its kind, and deals with messier issues of who we are and want to be. A lovely, thoughtful novel without pat endings or clear heroes."
Maureen Garvie holds an M.A. from Queen's University and a B. Ed. from the University of Toronto. She says, "Over the years I've been a teacher of English/drama, a librarian, journalist, reviewer and editor. I'm now a copy editor with McGill-Queen's University Press, a senior tutor at the Writing Centre, and a writer of literary fiction and non-fiction." Her books include Their Leaven of Influence, with Jennifer Johnson (Queen's University, 2000); George Johnson's War, with Mary Beaty (Groundwood, 2002); and Lake Rules (Key Porter, 2005). She lives in Kingston, Ontario.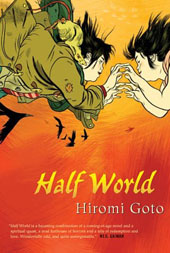 Half World
Penguin
ISBN: 0670069655
The Sunburst jury says: "After her mother suddenly disappears, unpopular oddball Melanie Tamaki accidentally discovers that she is a refugee from Half World, a  Boschian third dimension between the worlds of Spirit and Flesh where dead people work out their karmic issues through chaos and entropy. Beyond the hypnagogic wonders of the Half World setting and the clever yet unobtrusive cosmology of its concept, this is a mother-daughter story, a fact which of itself sets the novel apart, for few such are written. Most YA novels focus on peer relationships; Half World does too, but Melanie's best friend is a shape-shifting jade rat pendant.
"Goto's style is gruesome rather than gory; neither horror nor dark fantasy but entirely original and unclassifiable. Richly imagined phantasmagoric scenes decorate every iridescent page. Goto's stylish incendiary prose lifts Half World above the YA category; this novel crosses age boundaries and could just as easily be categorized as a book for adults."
Hiromi Goto's first novel, Chorus of Mushrooms, was the 1995 recipient of the Commonwealth Writer's Prize Best First Book, Canada and Caribbean Region, and the co-winner of the Canada-Japan Book Award. In 2001, she was awarded the James Tiptree Jr. Memorial Award and was shortlisted for the regional Commonwealth Writer's Prize Best Book Award, the Sunburst Award and the Spectrum Award. Her other novels include The Water of Possibility (2001), The Kappa Child (2002) and Hopeful Monsters (2004). She is the current Writer-in-Residence with the Department of English and Film Studies at the University of Alberta.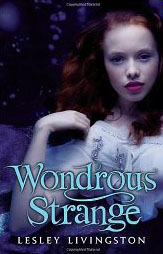 Wondrous Strange
HarperTeen
ISBN: 0061575372
The Sunburst jury says: "After being unexpectedly cast as Titania in Shakespeare's A Midsummer Night's Dream, 17-year-old Kelley discovers there's a fairy gate in New York's Central Park, guarded by hot young changeling Sonny, whom she naturally falls for after a dicey incident with a kelpie. She soon finds herself amidst a dangerous political game among various fairy factions.
"Livingston's style is light and frothy. She succeeds in walking a line between seduction and scares. A soufflé of a book."
Lesley Livingston, a writer and actor living in Toronto, has a Master's Degree in English from the University of Toronto specializing in Shakespeare and Arthurian literature. For almost three years, Lesley hosted weekly late-night movie marathons on the nationally broadcast television show Spacebar as the Waitron-9000, a sparkly holographic waitress with an encyclopedic knowledge of obscure B-movie trivia. She is also a founding member and principal performer with Tempest Theatre Group. Wondrous Strange is her debut novel, the first in a trilogy published by HarperCollins. The second book in the series, Darklight, was released in early 2010.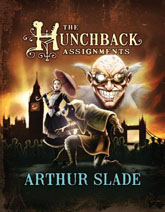 The Hunchback Assignments
HarperCollins
ISBN: 1554683548
The Sunburst jury says: "Gifted with the ability to temporarily change his appearance, young hunchback Modo has been raised as a secret agent. Sent out into the world on his first assignment, he is plunged into a dastardly plot that threatens both Victorian London and its children.
"The Hunchback Assignments is a great, roaring adventure of a steampunk story set in a world that's well-imagined, intriguingly familiar yet immediately identifiable. Slade's writing is direct and efficient, his characters well-sketched and likeable; readers will immediately connect with heroes who are independent and smart (yet flawed enough to be sympathetic), and with villains who are hateable yet also fascinating. Fun, fast-paced, and engaging."
Arthur Slade
grew up on a ranch in
Saskatchewan
and attended the
University
of
Saskatchewan
in
Saskatoon
. He received an English Honours degree and then disappeared into the flashy world of radio advertising copy for five years. The seventh novel he'd written,
Draugr
, was published by Orca Books in 1997, followed by
The Haunting of Drang Island
(1999) and
The Loki Wolf
(2000). His other works include a biography of John Diefenbaker for young adults as well as such YA novels as
Return of the Grudstone Ghosts: A Moose Jaw Mystery
(2002),
Tribes
(2004),
Megiddo's Shadow
(2006) and
Jolted: Newton Starkers Rules For Survival
(2008)
.
The sequel to
The Hunchback Assignments
,
The Dark Deeps
, was published in May 2010.
Jury's Recommended Reading
The jury felt that the following merited Honourable Mention:
Chard, Rosie, Seal Intestine Raincoat (NeWest Press)
Haworth-Attard, Barbara, Haunted (HarperCollins)
Mac, Carrie, The Gryphon Project (Puffin)
van Diepen, Allison, Raven (Simon & Schuster)
 The winners will be announced in the fall of 2010.